Rock 'n' Joe Coffee Bar newest addition at GlynOaks Plaza
Wednesday, October 10, 2018
When it came time for Dennis and Jayna Nienhueser, owners of Rock 'n' Joe Coffee Bar, to put their entrepreneurial vision down on paper, they reached out to Hampton Enterprises | Properties & Construction. The company's commercial development at southeast Lincoln's Glynoaks Plaza had previously caught their attention. They're glad it did.
From their initial phone call, the Nienhuesers knew they made the right choice as Hampton's Michelle Keogh immediately began considering their needs and suggested a space that would accommodate a drive-thru. A follow-up meeting revealed that Hampton could connect them with quality interior and exterior designers, taking additional stress off of the Nienhuesers' shoulders.
"It's been a great relationship; we have nothing but good things to say about them," Dennis said.
Along with meeting the Rock 'n' Joe franchise requirements, the Nienhuesers sought to include several custom features from their wish list, and Hampton's recommended designer, Peace Studio Architects, gladly obliged.
Hampton's project and construction managers also helped to smoothly coordinate the process that involved communication among the Rock 'n' Joe franchise headquarters in Pittsburgh, Pennsylvania; the architect; and contractors, the Nienhuesers said. The couple met with Hampton representatives every two weeks for progress updates, first at the Hampton corporate office in Lincoln, then at the construction site. 
"I was always impressed with how much got done from one meeting to the next," Jayna said. "While people told us to expect delays, there really weren't any on their part. Hampton always worked above our expectations."  
One example is seen on their meeting room's accent wall, which is now decorated with visually appealing and environmentally friendly beetle kill pine boards. Other customizations include a patio, an indoor/outdoor fireplace and a wrap-around soffit in the main gathering space. 
"Gill Peace did a great job designing this place and Hampton did a great job executing it," Dennis said. "They did an excellent job with the details."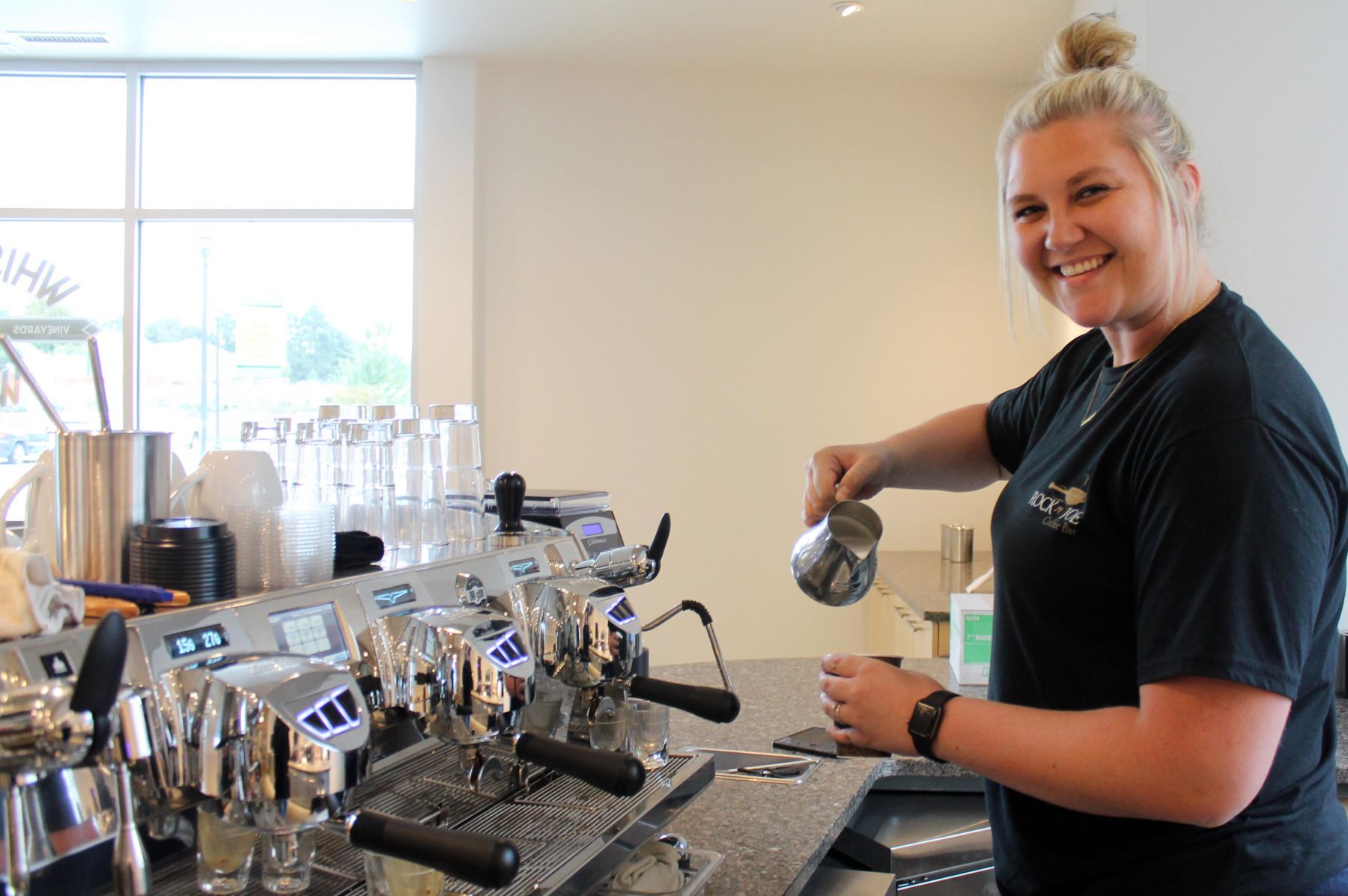 This was especially important to the Nienhuesers as they view their business at 84th Street and Glynoaks Drive as an investment in their children's and grandchildren's future.
Their youngest daughter, Tara Ihde, currently serves as the location's general manager. She was previously a regional manager in charge of five stores for another popular coffee franchise. The Nienhuesers have another daughter, Janae Greer, and two grandchildren who live in Lincoln, and a son, Ryan, who lives in Denver.
Tara is most excited about the espresso machine, which she said is more intricate than anything she worked with in the past. The espresso drinks will feature foam art and all coffee flavors are available hot, iced or frozen. Customers can choose from traditional pour-over coffee, French press or cold brew.  
The Lincoln Rock 'n' Joe also will offer the Nienhuesers' wine from Whispering Winds Vineyards, which will be new to the market this fall. A dispensing machine will allow customers to sample various sizes of their two whites wines, Tranquility and Lover's Lane, and one red wine, Rendezvous. Rock 'n' Joe also will serve beer.
"It's not just our store; it's a gathering place," Jayna said. "We want people to come back, to feel comfortable and welcome."
And thanks in part to Hampton, the Nienhuesers believe Rock 'n' Joe Coffee Bar will be that, a friendly, comfortable, aesthetically pleasing gathering place.