Hampton accommodates Bubbles & Blocks schedule
Thursday, January 24, 2019
Excitement is bouncing off the newly constructed walls at Bubbles & Blocks Child Development Center in GlynOaks Plaza. Co-owner Cory Quimby said, "We're just excited to get going."
Bubbles & Blocks approached Hampton Enterprises | Properties & Construction about a 6,000-square-foot expansion at Bubbles and Blocks' 4930 Lindberg Street location in the Spring of 2018. The construction timeline was squeezed by some unexpected challenges getting all the necessary approvals from the City and local utilities.
Hampton broke ground September 2018 and finished construction January 2019. There were no project delays, and within weeks of completion, the center received licensing to start enrolling new children.
Valuing safety and a nurturing environment, Bubbles & Blocks turned to Hampton for a crew capable of handling heightened precautions.
Children would clear a room for construction crews to work and return hours later as if nothing had changed. The new building connected next door to a room where infants slept, so crews would wait to start various projects until 5 p.m. or hold off until the weekend to minimize disruptions.
"It never felt like an open construction site," Quimby said. "Their communication was great, and everyone felt comfortable during the process."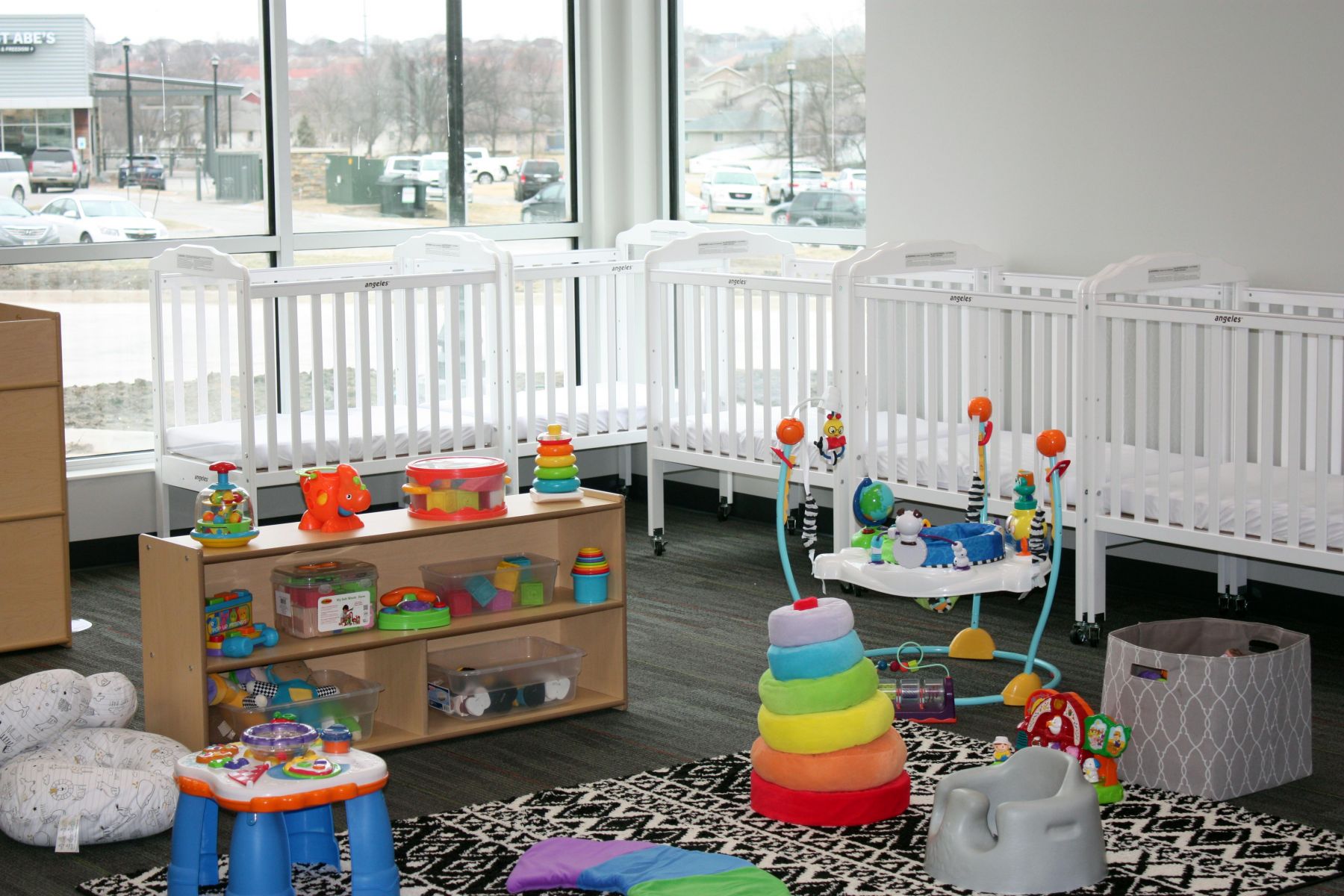 The end result was an addition that enhanced the safe, nurturing environment Bubbles & Blocks aims to create. More space allows children to be placed in rooms with peers closer to their own age. Entrance door keypads and new security cameras ensure the safety of every child inside.
The expansion features new rooms for infants, toddlers, preschool- and school-aged children along with extra storage. Outside, a new playground has youth eager for warm weather. More importantly the new building now accommodates for the growing demand for childcare in south Lincoln.
"We had children and parents waiting more than two years to enroll," Quimby said. "Without this expansion, we were unable to serve our area's great need for childcare."
Since the addition, enrollment skyrocketed from 138 to 254. Bubbles & Blocks also can serve a wider age range of children. They now accept children up to fifth grade because of their new grade school playroom.  This 30- by 30-foot tile-floor space has high ceilings and a wall-mounted basketball hoop.
A new parking lot also allows Bubbles & Blocks to serve parents' transportation needs.  The center went from 10 parking spots to 27. This provides adequate space for the two new buses that will drop off and pick up kids from nearby schools. The buses also will transport younger children to field trips, such as the park, library and Lincoln Children's Museum.
This expansion was not Quimby's first project with Hampton, as he and his wife, Katie, worked with them six years ago for the first Bubbles & Blocks location on North 84  – and again for original construction of their GlynOaks Plaza location.
"Hampton treats you well, works hard and is always on top of it," Quimby said. "They were excited to get the expansion done just as much as we were."