Inventive entrees arrive in southeast Lincoln
Tuesday, January 8, 2019
Having made quite the impression on Lincoln's dining scene in recent years, two entrepreneurs looked to Hampton Enterprises | Properties & Construction to create their newest locations from the "ground up."
GroundUP Restaurants owners Erik Hustad and Gabe Lovelace chose Hampton's burgeoning GlynOaks Plaza, located in southeast Lincoln, as the site for their fourth Honest Abe's Burgers & Freedom and the rebirth of their fine dining concept, Sebastian's Table. Hustad and Lovelace had familiarity with Hampton, having worked with the company when they opened their first  Honest Abe's in Hampton's Meadowlane Shopping Center location in northeast Lincoln a few years ago.
"The main reason we looked at GlynOaks was because of that great relationship with Hampton," Hustad said. "They walked us through every step of the process, from initial ideas to layout, picking out carpet and tile, and now they're on-site every day watching each piece of the puzzle being put together."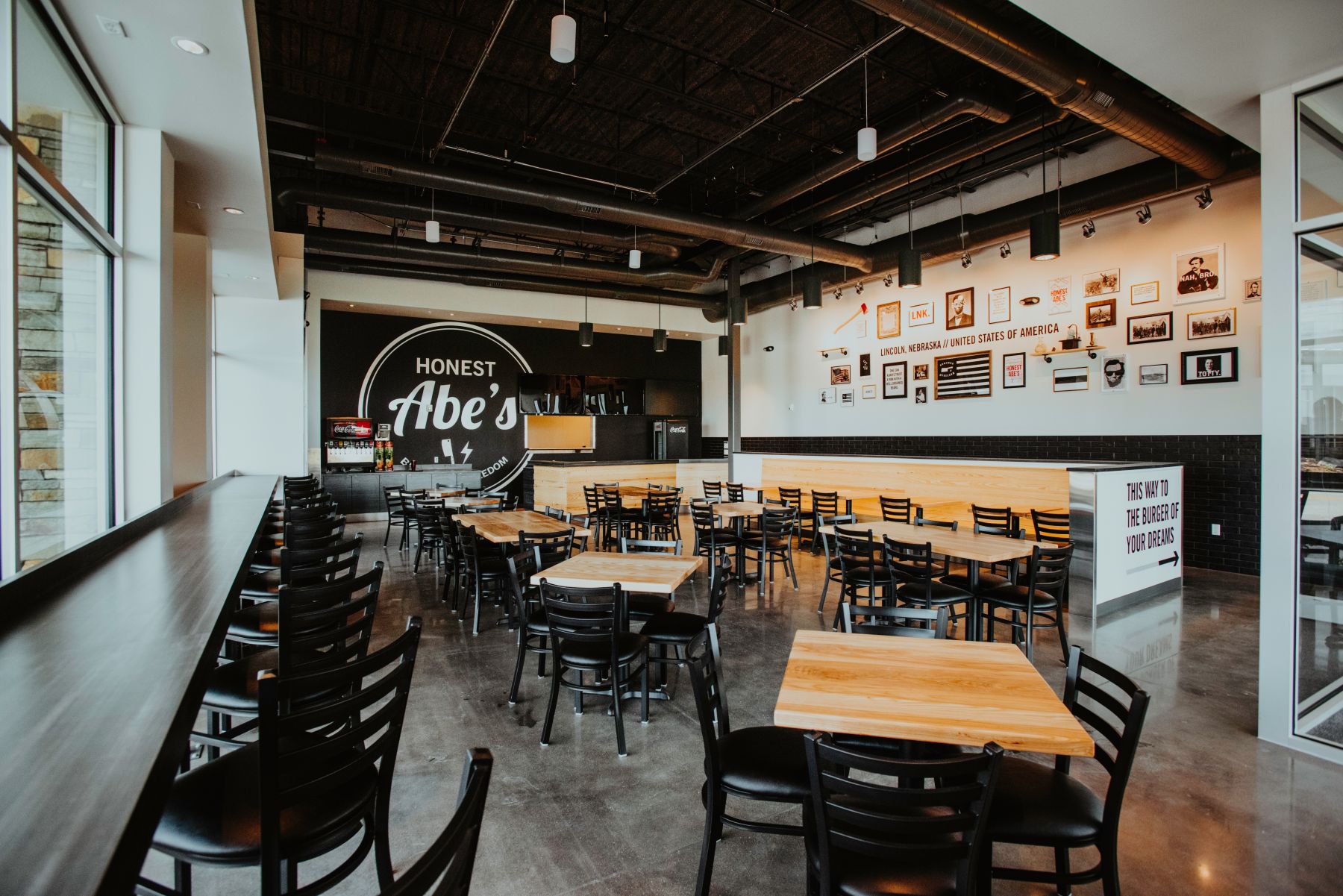 As the 2018 Lincoln's Choice winner for best burger joint and #3 Burger Joint in the nation according to TripAdvisor, Honest Abe's is known for its untraditional toppings, from chow mein noodles and cinnamon cream cheese to roasted grapes and Brussels sprouts.
Next door to Honest Abe's, Sebastian's Table offers Spanish and Mediterranean cuisine, primarily in the form of tapas — small plates intended to be shared among the dining party. A more standard menu is available at lunch, and brunch will be offered on the weekends.
Hampton helped GroundUP's vision for both spaces come to life, Hustad said.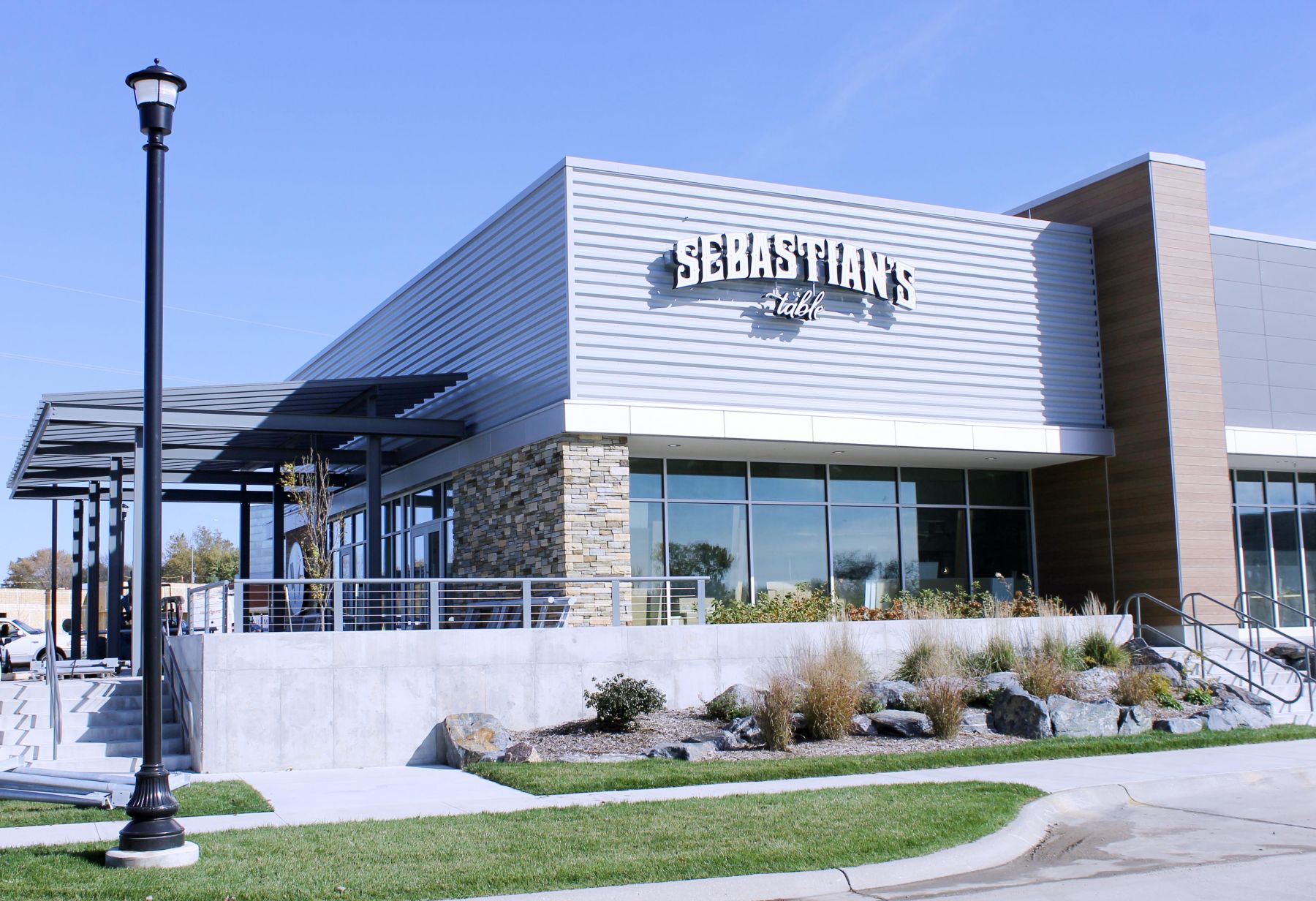 "Sebastian's Table interior is designed to accommodate a much more lavish, relaxed dining experience — and much more intentionality with regard to each and every detail," Hustad said.
The black-and-white decor and counter-order, fast-casual setup of Honest Abe's, meanwhile, will resemble its other locations — with a few updated refinements, of course.

"We incorporated much of the same whimsical branding that our other stores have, but there are some differences, just to keep it fresh," Hustad said.
As creative minds are prone to do, it's no surprise that Hustad and Lovelace — the duo that has given its past burger creations names like "Nacho Momma" and "Pesto Change-Oh," after all — have altered their vision for both spaces more than once. Hustad praised Hampton for accommodating their every request.
"When laying out the space on paper, the inside joke we've all come to laugh about is whether we are done moving walls and changing ideas," he said. "Hampton has accepted each curveball we've thrown their way as we've gone back and forth so many times on what we wanted; we still have an addition coming in spring 2019, which we suggested halfway through the current construction project. We are humbled and honored that Hampton has put so much faith in our ability to bring viable and current restaurants to its new retail center, and we certainly don't take this opportunity lightly."
Hampton and GlynOaks gave the duo a well-suited location to reopen Sebastian's Table. Although the original restaurant, located in downtown Lincoln, closed in 2015 — GroundUP repurposed the space into Honest Abe's — the buzz around its return has spread beyond the neighborhood and throughout town.
"We are certainly getting lots of feedback about how excited people are to have both of these concepts in their neighborhood," Hustad said. "We feel like this growing neighborhood is vastly underserved, and we cannot wait to help fill that void."