Farmhouse Fraternity
Thursday, October 25, 2018
When Farmhouse Fraternity alums decided their younger fraternity brothers enrolled at the University of Nebraska-Lincoln needed a new home, they looked no further than Hampton Enterprises | Properties & Construction.
A building committee consisting of alumni spent considerable time analyzing the existing house, built in the 1940s, to determine if it could be reasonably upgraded or remodeled. Ultimately, the committee decided dollars would be better spent constructing a new building.
According to alum and building committee member Jeff Monzu, who represented the project's architectural firm, LEO A DALY, a host of challenges made new construction the most viable course. The former structure lacked air conditioning and its electrical and information technology infrastructure was far behind the times.
Mark Hier, Hampton's on-site superintendent, and Dave McNeal, project manager, steered the project to completion, ensuring the site's occupancy permit was issued by the city in time for students to move into their new home before the fall semester began August 20.
"We had a good experience with Hampton," Monzu said. "Mark and Dave did a good job, especially with them in Lincoln and us in Omaha. Mark called us often, talked things through and made sure we were all on the same page."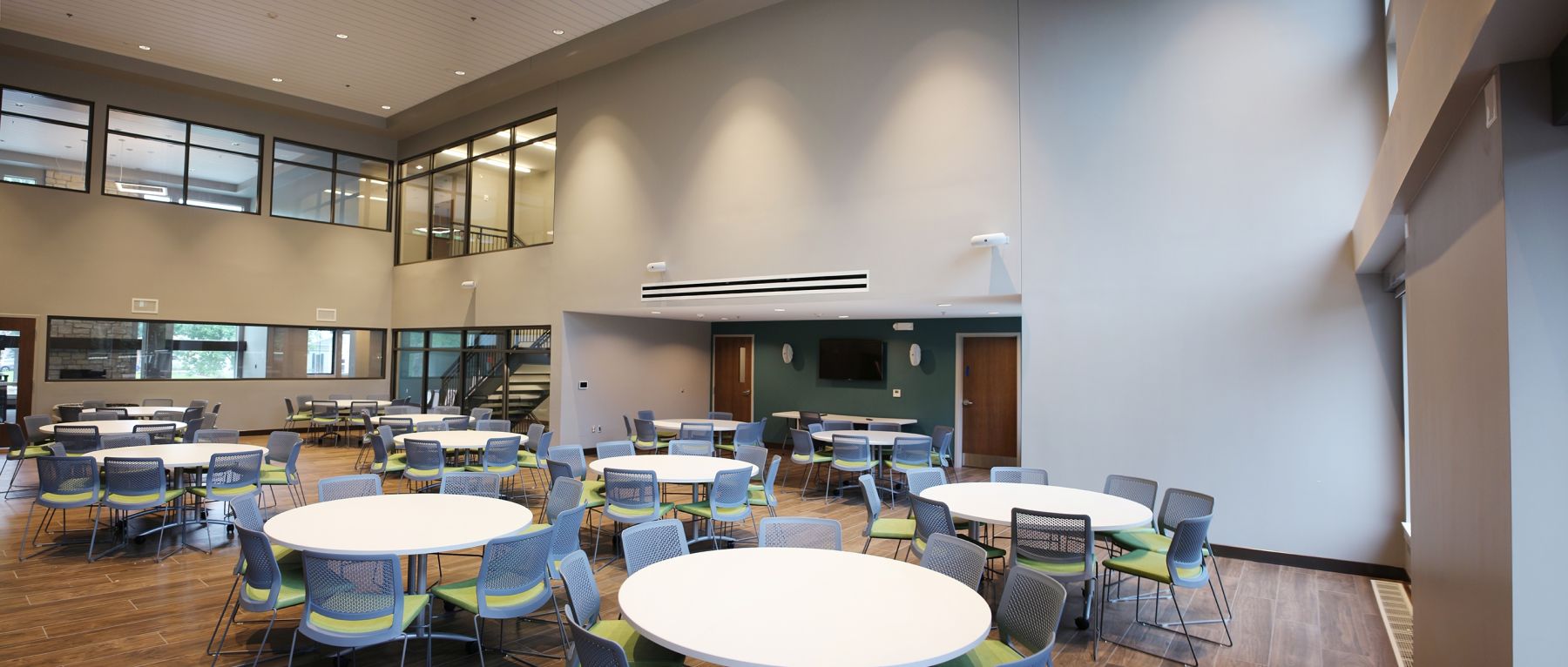 The 30,000-square-foot structure, located in an established residential neighborhood, came with concerned neighbors. Hampton was ready. Monzu praised Hier and others with Hampton for working closely with the neighborhood association and individual homeowners, particularly when drainage or mud could have been a problem.
"Neighbors could call Mark directly," he said. "They maintained great communication with everyone around and made sure to mitigate issues right away. Neighbors were complimentary of that."
The house features ample space for 88 students plus a house mother in her own apartment-style setting. Four students apiece fill the 22 units spread across three floors. Each unit has a study room with desks and chairs, plus a separate bedroom with two sets of bunk beds and closet space.
Technology and convenience abound. A well-equipped commercial-style kitchen allows for easy meal preparation and cleanup, with a nearby snack area for late-night studying. Ample conference rooms feature large TVs and a hidden projector can beam a movie or Husker football game in the dining room complete with a multi-speaker sound system. Quiet, motorized shades reduce sunlight and a remote-controlled fireplace beautifies a two-story living room.
"It was very well received," Monzu said. "Parents were happy, the alumni board is happy and the students love it. Ultimately it puts them in a better place for the next 50 or more years."